Fluid Power Symbol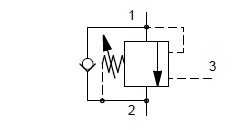 Specifications
Max Flow

: 180 lpm

Max Pressure

: 250 bar

Cavity

: Not Applicable

Leakage

: 0.3 ml/min (5 dpm)
Counterbalance valves give static and dynamic control of loads by regulating flows in or out of hydraulic actuators. They prevent load runaway or allow for thermal expansion of the hydraulic fluid in the system. They can also be used to develop back pressure in applications such as plastic moulding to improve the colour quality of the polymer mix.
As in the case of Direct Acting Valves, when the pressure at Port 1 exceeds the setting of the relief valve, the poppet will slide back and open the Inlet to the Outlet. Maintaining a steady back pressure on the inlet port and controlling the motion. The check valve allows the reverse flow of oil to pass unrestricted.
Direct acting relief valves give quicker control of pressure. They also have zero leak characteristics which give load holding capabilities. They find excellent use in vertical cylinders for load control. Valves are designed for minimum pressure drop to ensure low power consumption. Hardened working parts ensure a long, reliable, trouble-free life.