Fluid Power Symbol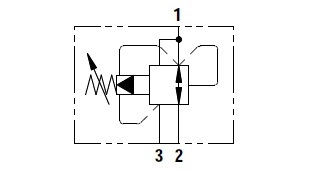 Specifications
Max Flow

: 22 lpm

Max Pressure

: 350 bar

Cavity

: SAE08-3

Leakage

: 82 millilitres/min @ 210 bar
Pressure reducing valves are normally open valves that are used to maintain constant downstream pressure lower than the inlet pressure. They are ideal for use in two actuator systems or to protect low pressure actuators such as brake cylinders, clamping cylinders or even for joystick operation.
The PA08 in steady state will allow bidirectional flow between 1 and 2 with spring chamber 3 vented. When the preset pressure at 1 is achieved, the spool throttles to regulate pressure at 1 by restricting flow at 2. The valve will relieve 1 to 3.
Hardened precision spool and sleeve for long life. A variety of pressure ranges. High accuracy of pilot operated design with adjustments for preventing springs from going solid. Adjustment may be locked in place. Industry common cavity with a compact size.