Fluid Power Symbol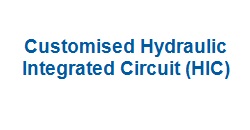 Specifications
Max Flow

: Contact Sales

Max Pressure

: Contact Sales

Cavity

: Contact Sales

Leakage

: Contact Sales
Hydraulic Systems for Mobile Applications include Hydraulic Integrated Circuits (HICs) for Excavators, Diggers, Front End Loaders, Wheeled Cranes, Track Cranes, Slew Cranes, Forklifts, Telehandlers, Tipper Trucks, Tuck Mounted Cranes, Backhoe Loaders, Rock Drills, Well Drills, Side Dump Loaders, Road Milling Machines, Cement Pumps, Transit Mixers, Paving Machines, Crushers and Screeners, Mining Equipments, Agricultural Sprayers, Harvesters, Combines, Crop Sprayers and a vast number of other equipement.
These systems integrate a variety of valves in Screw-in Cartridge Valve forms to create a single valve bank or manifold system. The cartridges are connected using cavities with internal holes and external ports for integration with the rest of the equipment. Strategic gauging points are added to monitor the functioning of the system
HICs have a variety of benefits ranging from a more compact system envelope and light weight to reduced leakage points, ease of servicing and reduced power usage. Solenoid Valves with Deutch Moulded connectors and minimum cycle life of 1,000,000 cycles are used to reduce servicing and downtime. Only cartridges that are forgiving to ingress of particles are used. Stainless steel cartridges can be made available on request.