Fluid Power Symbol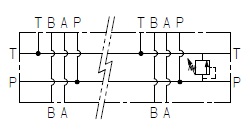 Specifications
Max Flow

: 65 lpm

Max Pressure

: 350 bar

Cavity

: CETOP5

Leakage

: Less than 35 millilitres/min
The XP070AR sub plate is a CETOP5 manifold with an inbuilt relief valve to limits system pressure by directing flow from the P to T Port when pump pressure reaches the valve setting. It reduces the need for an additional relief valve when using CETOP5 modular stacking valve.
When the inlet pressure at P exceeds the setting of the valve, the ball unseats causing the pilot section to open. This results in a small flow across the orifice in the main spool. The subsequent pressure drop moves the secondary spool against a light spring opening a ring of radial holes in the sleeve and allowing relief flow to T
CETOP5 interface provides sandwiched stacking for directional control valves and other modular valves. Mating surfaces are ground and ports with OF rings are spot faced. The valve pressure setting is adjustable by means of an adjusting knob and locknut.