Fluid Power Symbol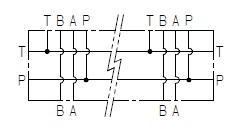 Specifications
Max Flow

: Not Applicable

Max Pressure

: 400 bar

Cavity

: CETOP5

Leakage

: Not applicable
The XP070 subplate is a CETOP5 multistation manifold having number of stations up to 4 numbers. The blocks are convenient for systems having more than one solenoid valve and have a connected pump line to prevent excess back pressure.
Oil flows in through the 'P' Port and into the modular CETOP5 systems through the interface. Return oil flow out of the Tank Line.
CETOP5 interface provides sandwiched stacking for directional control valves and other modular valves. Mating surfaces are ground and ports with O-rings are spot faced.