Fluid Power Symbol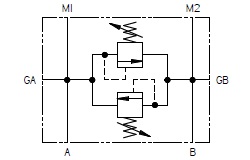 Specifications
Max Flow

: 90 lpm

Max Pressure

: 250 bar

Cavity

: OMS Flange

Leakage

: 5 dpm (0.3 ml/min)
This is a direct acting bi-directional relief valve designed to protect both lines in a circuit from over pressurization by relieving oil to the other line. Ideal for use with motors or directional valves as a emergency relief. The differential area means a fast acting poppet valve. The Motor Mounted bodies reduce the need for excessive piping and instead give a clean interface for the Relief Valve to be used in conjunction with your motor. The prime sized ports allow for directly connecting the valve bank to the motor.
Pressure acts over one of two direct acting relief valves forcing the poppet back allowing relief flow to the other port. This being a compact cartridge is ideal for mounting on to a motor in a special housing.
Cartridge relieving in both directions cut down space requirements. A full adjustment through the range on both pressures allow for separate settings for backward and forward rotations..